GLOBAL INNOVATION CHALLENGE 2022
We barely emerged from the pandemic's trauma, we have been severely hit by several other crises. Be it the Ukraine war or the Sri Lankan economic situation we are going through one of the toughest times. Such man-made disasters have disrupted the global economy and the well-being of the people which is bound to take a long time to heal.
The plight of Ukrainians and their neighbors including that of Russians is extremely bad. It has caused widespread destruction and severe irrecoverable disruption to their lives. Whereas the Sri Lankan crisis caused extreme financial and social disorder limiting access to basic needs, healthcare, and personal and financial security.
Design interventions for an empathetic, sustainable, and delightful citizen experience
Opportunity to rebuild and heal the world with design
Can we take inspiration from resilient economies like Japan after the world war or Norway after the Covid pandemic? Can our creative design community design resilient and sustainable systems at an individual, society, and national level? We have an opportunity to design from scratch.
Design interventions for an empathetic, sustainable, and delightful citizen experience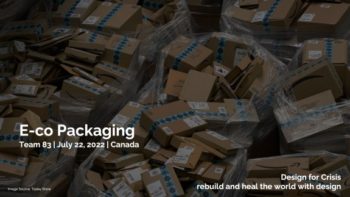 Sustainability
Eco Packaging
Consumers are calling for a more sustainable packaging solution from e-commerce businesses, as the e-commerce…
View Entry →
Team:
Noob Power