Join our network of Mentors
Being mentored is one of the most valuable development opportunities you can offer those beginning their careers. As a mentor, your guidance, encouragement, and support can provide mentees with a broad range of personal and professional benefits.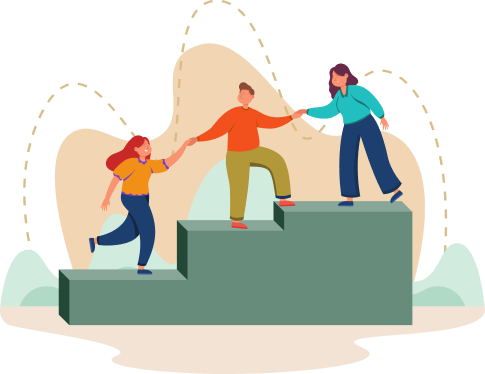 Become A Mentor

Become A Partner

Become A Volunteer
Mentors have always been at the core of UMO, they are the catalysts to all key programs.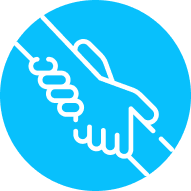 Being mentored is one of the most valuable development opportunities you can offer those beginning their careers. As a mentor, your guidance, encouragement and support can provide mentees with a broad range of personal and professional benefits. All it takes is passion, empathy and skills to create a lasting impact on your mentees
Simply put, because you can make a difference in a student's life, as well as your own. Through mentoring, you can get recognized as a subject matter expert and leader, expose yourself to fresh ideas and approaches, get opportunities to reflect on your own goals and practices, and develop your leadership and coaching style.
Enablers/Mentors: You could be an experienced professional, a teacher, or a seasoned mentor from any domain, not limited to design. We would love to have you guide and mentor our teams participating in our challenge and together create a long-lasting social impact.
UMO Mentor – Task Force Registration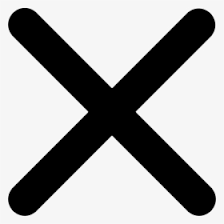 Outstanding Industry Mentors
Join our network of Mentors who are empowering mentees to realize their creative potential.
Jayant Jain
Product Manager
Flipkart
Pranjal Bhown
UX Designer
Microsoft
Pooja Rastogi
Innovation and Strategic Design Lead
Verizon
Prachi Sakhardande
Sr Design Research Manager
Microsoft
Ravi Kumar Adapa
Principal Technical Writer
Oracle
Adilakshmi Veerubhotla
UX Architect
IBM
Shree Ransubhe
Lead Consultant & Design Lab Head
Infosys
Manish Kori
Senior User Experience Designer
Microsoft
Sivaprakasam Gnanam
Senior Product Designer
Lokal
Gunjan Thapa
Creative Director
Wesence
Harshvardhan Upadhyay
Chief Designer
Samsung
Udhaya Kumar Padmanabhan
Global Strategic Design Director
Designit
Divya Adinarayanan
Incubation & Product Leader
Jabil Inc
Rohit Gunda
User Experience Specialist
Boeing
Saran RM
Director – Human Experience
WongDoody
Zheeshan Durrani
Lead UX Designer
Cerner Healthcare
Vaishnavi Reddy
Founder
OriginUX Studio
Naveen Mamgain
Co-founder & Design Head
Quick Ride
Ashish Jain
Design Lead
L V Prasad Eye Institute
Feras Abdul Khayum
UX Lead
Novartis
Priyanka Rani
UX Designer
Legato Healthcare Technology
Parvez Ansari
Senior Product Designer
Fincent
Shweta Gangoli
Project Manager
Neilsoft Pvt Ltd
Arko Sen
UX Lead
HCL Software
Saikumar Mukthevi
Founder/CXO
Leapfrog Creative Studios
Tarun Kumar
PhD Research Scholar
Indian Institute of Science
Shweta Rashinkar
Associate Creative Director
Deloitte Consulting
Shashank Shekhar
UX Strategist
OPPO Mobiles India Pvt. Ltd.
Dhanashree Manohar
Lead UX designer
nextUX Design Agency
Sudheer Siddharth Kuchimanchi
UX Lead
BIRLASOFT INDIA LTD
Swati Soni
Lead Visual Designer
Quovantis
Manish Kumar Bishnoi
Lead Product Designer
HCL Technologies
Sunit
Sr. Manager Product Design
Singapore Press Holdings
Harihara Subramanian
Creative Leadership,Design Evangelist, Illustrator and Visual Designer
Tata Consultancy Services
Dr.Satish Bhavankar
Director – Open Innovation & Experience Design
AVAS DIGITECH INTERNATIONAL PVT LTD
Lawanya Ramachandran
Senior UX Designer
Yara International
Rajendra Thakre
Associate Professor
MIT Institute of Design
Dr. Anirban Chowdhury
Mentor
UPES School of Design
Jagannathan Kannan
Technical Manager User Experience
GAVS Technologies
Gavin Remedios
Experience Design Practice Leader
KPMG
Ashima Sood
Founder
The UX Guys
Parag Deshpande
User Experience Consultant
EPAM Systems
Alankar Sudarsan
Digital Associate
2Min Studios
Harsh Vardhan
UX Designer L2
ADP
Prateek Gupta
Senior Product Designer
Flipkart
Hemanth Anumandla
Senior Managing Consultant
EY
Kunal Jagtap
Experience Design Consultant
Deloitte Digital
Pratima Gupta
Designer Head
Freelance
Vijeth Rao
Design Lead – User Experience
LeadSquared
Amit Inamdar
Founder – Director
Zealous Design Solutions
Roopali Babhulkar-Dhamane
Design Educator
Raffles Design International, Mumbai
Vibhuti Agrawal
Design Head
Wipro
Pallavi Rani
Assistant Professor
National Institute of Fashion Technology
Abhinav Paitandy
Senior User Experience Designer
PayPal
Neha Jattu
Senior Visual Designer
frog
Alipta Ballav
Design Head – India
Cerner Healthcare
Chinmay Sudhindra Hulyalkar
Principal UX Designer
Talentica Software
Siddarth Kengadaran
Product Designer
Moonraft
Gaurav Lal
SVP Product Design
RateGain
Mohammed Gaus Shaikh
Senior UX Designer
Integrated Health Information Systems
Dr Ravi Lingannavar
Associate Professor
Dr. M.S. Sheshgiri College of Engineering and Technology
Mohammad Asif
Senior UX Specialist
FactSet Research Systems Inc.
Priyanka Gahlot
Senior UX Faculty and Trainer
ImaginXP
Alisha Raghavan
Director of Strategy & Design
Pensaar Design
Michelle Parayil
Conversation Design Manager
Jio Haptik
Rupashree
Principal – Product Design
Zycus
Vineeta Soni
UX Consultant
Nagarro Software Pvt. Ltd.
Niyati Agrawal
Product Manager
In between jobs
Mathew Kurien
Professor, Head of Department, Graphic Design
MITID, Pune
Mohan Vijay
UX Head
BSH Home Appliances
Shantanu
Product Owner & Design Lead
McKinsey & Company
Vatsal Sunil Chaoji
Associate Director UX
Standard Chartered Research and Technology
Vikas Bhutani
CX / UX Lead
Kmart Australia
Sreya Ahuja
Lead Designer
Cure.fit
Ruby Mathew
Co-founder
Startup Stealth Mode
Nidhi Gulatee
Customer and User Experience Specialist
Jio Platforms Ltd.
Juan Fernando Pacheco
Business Development Manager – LATAM
TATA Consultancy Services
Anita Eradla
Product Design Lead
Capital One
Rujuta Shah
Lead UX Designer
Honeywell
Nayan Bhatt
Senior UX Designer
IBM iX
Sankar V
UX Head
Ramboll India Private Limited
Deepshika S
UX Designer
Moveeasy
Sudebi Thakurata
Co-founder
D.epicentre
Vidhu Saxena
UX Designer
Microsoft
Gandhi Sakthivel
Head of User Experience
IDP EDUCATION LTD
Rayomand Pavri
Associate Creative Directors
Deloitte Digital
Shrikant Deo
Sr. Manager Experience Design
Oracle
Ashutosh Parihar
Lead UX Designer
Microsoft
Prasad Rashinkar
Design & Innovation
Walmart Labs
Probal Banerjee
Co-Founder & CEO
D.epicentre Consulting
Aadesh Mistry
Principal Product Designer
BMC Software
Saurabh Srivastava
UX/UI Designer
Cisco Systems
Basuvalingappa A
User Experience Architect
Tavant
Naveen IR
Lead Experience Design
Verizon
Chandrashekhar Mehra
UX Designer
SAP Labs
Prashant Manda
UX Designer
JPMorgan Chase & Co.
Dr. Ravindra Singh
Mentor
Delhi Technological University
Smita Kanakula
UX Architect
Harbigner Systems
Dr. Swapnil Dambe
Head & Senior General Manager
RedxInnovation Lab
Amit Kumar
Associate Consultant, Experience Design
Nagarro
Hemant Nagwekar
Product Design & UX
Consultant
Melvin John
User Experience Specialist
Standard Chartered Bank
Sourabh Yadav
User Experience Designer
YUJ Designs
Neeraj Talukdar
Product Designer
Zillow
Vandana Jagannathan
Senior User Experience Designer
TD
Suchitra A D
Design
WONGDOODY
Veera Gadipelli
Associate Director Experience Design
VMLY&R
Ami Sampat
Product Designer
Amazon
Kavitha Appaya
Head Of Research
Pensaar Design
Dmitry Nebeduhin
Director of Product Design
HackerRank
Noopur Adhaulia
Senior User Experience Designer
Goldman Sachs
Sneha Bhadauria
Sr. Product Designer
Centime, Inc.
Ayushi Sharma
Product Design Lead
Fox Corporation
Naveen Kumar
User Experience Designer
EdgeVerve